Harnessing the Power of Trust and Tradition to Eliminate NTDs in Tanzania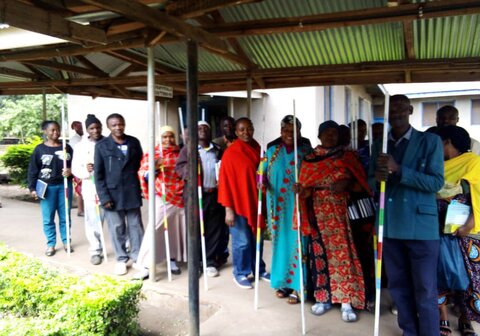 By Claire Karlsson (Senior Associate, WI-HER), Isaac Njau (Program Officer, Ministry of Health, Tanzania NTD Control Program), MJ Ulrich (Associate, WI-HER), Stella Mwita (Technical Advisor, WI-HER), Ua Kassim (Gender Equity and Social Inclusion Specialist, WI-HER)
Throughout East Africa, nomadic pastoralist communities migrate seasonally in search of food for their livestock. The Maasai have done so across the Great Rift Valley of Kenya and Tanzania since the 15th century, with men and young boys managing cattle and moving them to new pastures.
In these Maasai communities, which are anchored in trust and tradition, traditional leaders have emerged as powerful influencers in helping their societies eliminate a neglected tropical disease (NTD) called trachoma.
Trachoma is the world's leading infectious cause of preventable blindness. It impacts pastoralist communities like the Maasai, spreading by flies that accompany their livestock. USAID's Act to End NTDs | East (Act | East) program is helping the Government of Tanzania, through the Ministry of Health's Neglected Tropical Disease Control Program (NTDCP), eliminate trachoma, including among the Maasai in Monduli District Council in northern Tanzania.
Nemburis Kapocho Mollel is a Maasai leader in Monduli. She is one of many Eleigwanani, or traditional female Maasai leaders, who, along with Laigwanani, traditional male Maasai leaders, are playing a pivotal role in Tanzania's trachoma elimination efforts.
Engaging traditional leaders in treatment campaigns
While men are often the primary decision makers for household choices in Monduli's Maasai communities, Maasai leaders, like Nemburis, are respected sources of health information and guidance who have the authority to shape household decision making, including the decision to take medicine for trachoma.
"An elder woman like me can make the decision," Nemburis shared.
In 2021, the Government of Tanzania had to restart treatment campaigns for trachoma in Monduli after previously bringing active trachoma to a low enough point to stop them. Trachoma's resurgence also sparked a new behavior change activity led by the Government of Tanzania with support from Act | East consortium partners WI-HER and RTI International. The activity included in-depth interviews with community members and leaders to analyze gender equity and social inclusion (GESI) factors that might be hindering medicine acceptance and allowing trachoma to persist in the district.
The interviews with people living in Monduli and the resulting analysis found that, in addition to the effectiveness of health education, the Eleigwanani and Laigwanani played a powerful role in matters of healing and traditional health services within Maasai communities in Monduli.
Eleigwanani like Nemburis advocate for women in Maasai communities and as part of this responsibility, they often conduct home visits to advise women on Maasai culture and traditions, including family health and fertility. Having children is an important and valued responsibility of women in Maasai communities, and Nemburis had advised women in the past to avoid modern medicines and take traditional ones instead, because she feared that modern medicines like those used for trachoma may cause unwanted side effects like infertility.
Health education overcomes skepticism and fear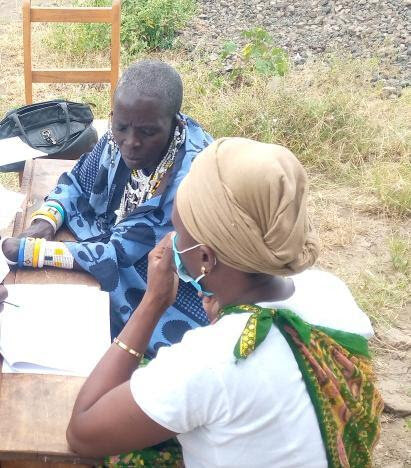 After participating in a health education session, Nemburis felt assured that the trachoma medicine would safely prevent trachoma transmission in her community. Nemburis agreed to take the trachoma medicine during the next treatment campaign and announced that she would like to use her position of trust and respect in the community to convince others to take it as well.
"If [Eleigwanani] are educated and assured that these medications are safe, we will educate our society, because we have that authority,'' she explained.
Nemburis and other Eleigwanani in Monduli have committed to do just that. Going forward, they will spread the word about the upcoming trachoma treatment campaign in their home visits with women. In these safe spaces, the Eleigwanani are in a position to address women's fears and misconceptions about trachoma, including the safety of the medicine for children and during pregnancy.
Equipped with this richer insight into Monduli's Maasai communities, the Government of Tanzania, Monduli health officials, and Act | East gathered 32 influential people, including Eleigwanani and Laigwanani, for a planning session ahead of the next treatment campaign. The influencers received information about the trachoma treatment campaign and discussed how GESI factors can shape health service access and acceptance. They brainstormed ways they could use their positions of influence to share health information, including about trachoma treatment, with their communities.
In the planning session, the Laigwanani and Eleigwanani participants committed to inform their fellow leaders of the upcoming campaign in Monduli and use their combined influence to ensure both men and women were prepared to take the medicine. In all, they integrated information about the campaign into more than 19 village, hamlet, and traditional Maasai meetings ahead of the medicine distribution.
Traditional leaders drive positive change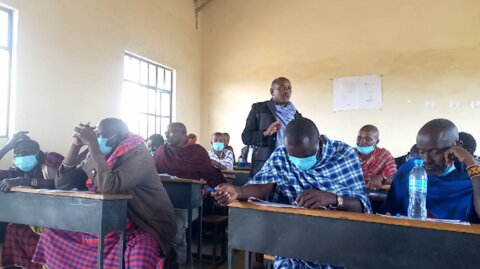 The engagement of traditional leaders like the Laigwanani and Eleigwanani has proved to be invaluable. A reported 79.8% of the Monduli population received the trachoma medicine in 2022, representing a total of 166,144 people. In the four villages where the influencer engagement and health education intervention was conducted, 88% of the population took the trachoma medicine, representing 23,121 people. This exceeded the Government of Tanzania's recommended target of 80%, and was 8% greater than Monduli district as a whole.
The success of this GESI behavior change activity in Monduli has seen similar strong results among pastoralist communities in Simanjiro, Kiteto, and Longido District Councils and has inspired expansion in 2023 to additional community members.
By equipping traditional leaders to overcome barriers to medicine acceptance, this work has helped reduce people's fears and misconceptions in culturally sensitive and sustainable ways. To ensure trachoma is eliminated in Tanzania, it will take continued engagement with and capacity building of traditional leaders like Eleigwanani and Laigwanani to improve the health and vitality of the country's Maasai communities.