Nigeria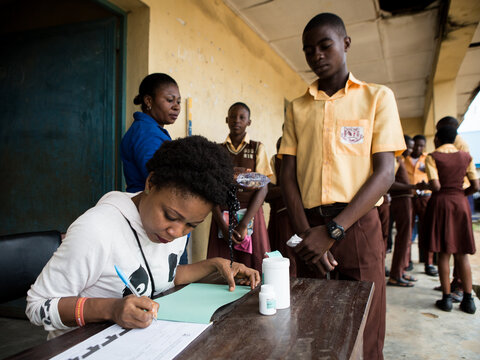 Nigeria has the highest NTD burden in Africa, with more than 200 million people at risk for at least one NTD. Nigeria's Federal Ministry of Health (FMOH) leads the country's ambitious efforts to fight NTDs. The country is endemic for all five NTDs targeted by USAID's Act to End NTDs | East program: lymphatic filariasis (LF), onchocerciasis, trachoma, schistosomiasis, and soil-transmitted helminth infections.
Since 2013, USAID has supported the FMOH to reach their NTD goals, with a focus on scaling up mass treatment, surveys to assess impact, and helping to strengthen Nigeria's integrated platform for NTD interventions. As a result, Nigeria is within reach of elimination goals for LF, trachoma, and onchocerciasis. Nigeria's interruption of onchocerciasis transmission in Plateau and Nassarawa is notable, as it is the first stop treatment decision in Nigeria and the largest stop treatment decision to date.
Our Focus
In Nigeria, Act | East Program activities are implemented by The Carter Center in Plateau, Nasarawa, Edo, Delta, Enugu, Imo, Abia, and Ebonyi States and by RTI International in Cross River State and at the federal level.
At the federal level, Act | East provides support in various aspects of NTD program management, including coordination, strategic planning, monitoring and evaluation, reporting, and data management. At the state level, Act | East provides support to nine states in implementing their NTD programs.