Ethiopia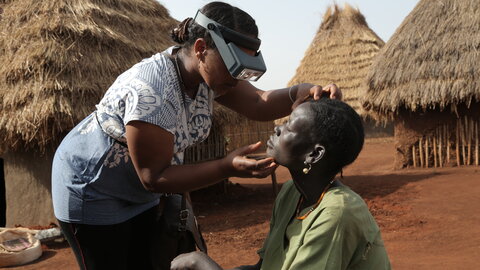 More than 97 million people in Ethiopia are at risk for one or more neglected tropical disease (NTD). The country is endemic for all five NTDs targeted by USAID's Act to End Neglected Tropical Diseases | East program: lymphatic filariasis (LF), onchocerciasis, trachoma, schistosomiasis, and soil-transmitted helminth infections. It has the highest burden of trachoma on the planet.
Since 2013, USAID has supported Ethiopia's Federal Ministry of Health (FMOH) to reach its NTD control and elimination goals. With a focus on scaling up mass treatment for LF, onchocerciasis, and trachoma, USAID support helped treat more than 171 million people for at least one NTD as of 2021.
Our Focus
Act | East in Ethiopia works in four regional states — Beneshangul-Gumuz, Gambella, Oromia, and Tigray — and is led by RTI International, Fred Hollows Foundation, and Light for the World. The program continues USAID's focus on the elimination of LF, and trachoma from the country, through support for mass drug administration, impact surveys, and dossier development. The program also supports the FMOH to assess the prevalence of NTDs in refugee camps and to provide treatment where necessary. Through support for integrated trainings and MDA, Act | East contributes to deworming in areas that are co-endemic for multiple diseases.