Ethiopia Launches Third National NTD Strategic Plan and Sustainability Plan for Neglected Tropical Diseases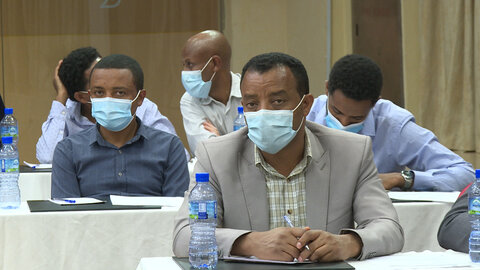 To celebrate World Neglected Tropical Diseases Day, Ethiopia's Federal Ministry of Health (FMOH) launched their Third National NTD Strategic Plan alongside a Sustainability Plan for neglected tropical diseases (NTDs), which will guide the country in its efforts to control and eliminate NTDs over the next five years.
Dr. Dereje Duguma, State Minister of Health for Programs, presented the plan to national and international stakeholders during an event celebrating the launch of the Third National NTD Strategic Plan in Addis Ababa. Ethiopia also joins an early group of NTD endemic countries to release a comprehensive NTD sustainability plan, including Côte d'Ivoire, Senegal, Togo, and Uganda. Together, the two documents provide a detailed roadmap for the country to better incorporate NTDs as priorities into routine government planning, budgeting, implementation, and monitoring. The plans establish a firm foundation to guide sustained control and elimination of NTDs in Ethiopia.
"With the huge burden NTDs impose on our population and the adverse role they play on the overall social and economic development, the Ministry of Health is committed, more than ever, to use all resources at its imprudence to ensure the materialization of the Third National NTD Strategic Plan," said Dr. Dereje Duguma.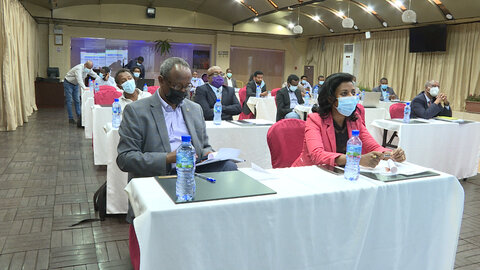 The Sustainability Plan sets ambitious goals to ensure that Ethiopia can build upon its previous successes. These targets include strengthening community engagement and demand for NTD interventions, improving cross-sector coordination, and mobilizing domestic resources for NTD programming. The Plan also highlights priority areas that require urgent attention so that the ministry can continue improving the health and livelihoods of the nearly 96 million people at risk for one or more NTD in Ethiopia.
"Here I'd like to reiterate that we are cognizant of the paradigm shift stipulated in the [WHO] Roadmap for neglected tropical diseases, which are also in line with the government's development direction towards prosperity. Hence, they are clearly emphasized and reflected in the Strategic Plan. Moreover, we have introduced a sustainability action plan for NTD control and elimination. For its materialization, the senior management at the ministry will provide the necessary guidance and nurture multisectoral collaborative and coordinated actions and further leverage domestic finances to maintain the provision of NTD interventions at all levels," said Dr. Dereje Duguma.
Endemic for several NTDs, including trachoma, lymphatic filariasis (LF), and onchocerciasis, Ethiopia has made significant progress towards reaching their NTD goals. For example, treatment for trachoma and LF are now reaching targeted populations in all endemic regions. As a result, more than 12 million people are no longer at risk for trachoma – a 13.5 percent reduction.
"This an important milestone for Ethiopia on the journey to end these diseases, we are delighted to be working alongside the Government and other partners to advance NTD efforts and embed them within the fabric of the health system to better serve all Ethiopians," says Biruck Kebede, Chief of Party at RTI International on USAID's Act to End NTDs | East program.
Ethiopia's FMOH led the creation of the Sustainability Plan, which is a result of a participatory and cross-sectoral process that included global NTD experts, Regional Health Bureaus, academics, and researchers. USAID's Act to End NTDs | East program supported the plan's development with financial, logistical, and technical support and plans to support the FMOH and RHBs with additional health system strengthening activities to further key tenets of the Sustainability Plan.