Ugandan government launches a national sustainability plan for neglected tropical diseases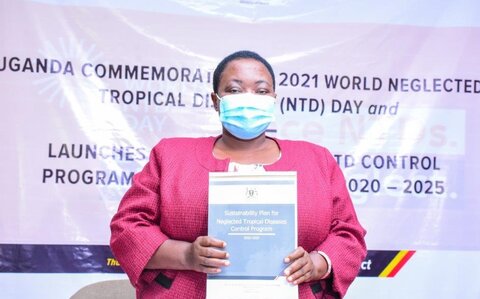 On February 4, 2021, Uganda launched a national sustainability plan for neglected tropical diseases (NTDs), reaching a new milestone in its progress to control and eliminate these diseases.
Uganda's Minister of Health unveiled the Uganda NTD Control Program (NTDCP) Sustainability Plan 2020-2025 at a high-level meeting with officials from various government ministries, as well as international and national stakeholders. The strategy will guide the NTDCP in designing and implementing interventions that will ensure the country's progress against NTDs is sustained to meet national and global control and elimination goals.
"To sustain our progress, the Ministry of Health is committed to pursuing and achieving the goals of this sustainability plan for NTDs elimination and eradication through working in close collaboration with partners…fully integrating interventions against NTDs within the primary health care system, empowering districts and strengthening their capacities…and advocating for increased funding," said Uganda's Minister of State for Health, Hon. Rhobinah Nabbanja.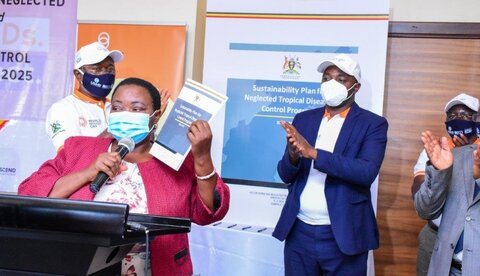 Uganda is one of the first endemic countries to release a comprehensive NTD sustainability plan. It was developed through a highly participatory process involving national and sub-national stakeholders and led by the Uganda Ministry of Health, through the NTDCP. USAID's Act to End NTDs | East program provided financial, logistical, and technical support to the process.
The plan:
Highlights priority areas that require urgent attention by government and NTD program stakeholders to ensure sustainability of program interventions;
Provides guidance for dynamic multi-sectoral collaboration and coordination;
Outlines steps for integrating NTD services within the broader health care delivery system and as a priority area for higher-level government planning and budgeting considerations;
Addresses prioritized gaps with targeted multi-year strategies and activities;
Commits to strengthening advocacy to stimulate action towards increasing domestic funding for NTDs from 12% to 30% by 2025; and
Identifies indicators and milestones for monitoring progress.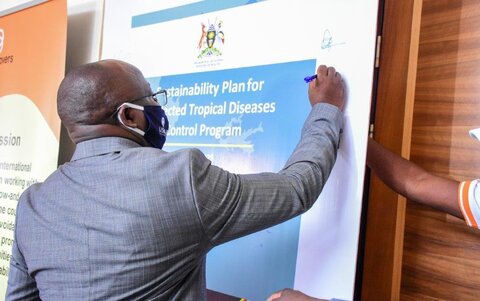 Every Ugandan is at risk for at least one NTD, but poor and rural communities are most vulnerable. The NTDCP has led tremendous progress towards World Health Organization (WHO) elimination and control goals for NTDs. The country's most significant NTD achievements include eliminating guinea worm, and interrupting the transmission of onchocerciasis in 31 out of 43 endemic districts. Lymphatic filariasis (LF) and trachoma — two of the most common NTDs — are projected to be eliminated by 2025.
Uganda's NTDCP has received financial and technical support from many different partners. Current partners include the WHO, USAID through the Act | East program implemented by RTI International and The Carter Center, Sightsavers, UK Aid through the ASCEND project, the Schistosomiasis Control Initiative (SCI), and the Korean government through World Vision.
Since 2007, USAID has supported Uganda in reaching its NTD control and elimination goals through the NTD Control Program (2006-2012), ENVISION (2011-2019), and now Act to End NTDs | East (2019-2023). RTI International and The Carter Center have led the implementation of USAID NTD programs in Uganda. With USAID support, Uganda delivered more than 152 million treatments for five of the most common NTDs. USAID also supported the execution of more than 400 surveys, reaching almost 70% of the country's districts, to assess the impact of treatment campaigns. In addition to its support for Uganda's sustainability efforts, Act | East continues to support the elimination of LF, trachoma and OV, including through mass treatment campaigns, impact surveys, and the development of elimination dossiers. Act | East also supported the NTDCP to assess the prevalence of LF and trachoma in refugee camps and to reach hard-to-reach populations, such as nomadic groups.
"The COVID-19 pandemic has only reinforced the importance of resilient national health systems that can withstand and respond to shocks and shifts," said Wilberforce Owembabazi, Program Management Specialist for the Global Health Security Agenda, USAID Mission to Uganda. "[The sustainability plan] is comprehensive and realistic, and it ensures that the NTD achievements will last well into the future."