Celebrating World NTD Day 2022
On 30 January 2022, Act to End NTDs | East joined more than 300+ partners in the global NTD-fighting community in marking the third annual World NTD Day.
From press briefings to comic strips, road walks to the launch of not one but two sustainability plans, Act | East-supported countries found creative ways to mark World NTD Day and ensure we continue to advance efforts to beat NTDs.
Ethiopia
A celebration for World NTD Day was held in Sidama, Ethiopia presided over by the State Minister of Health, Dr. Dereje Duguma. Participants observed many efforts to combat NTDs in the region – meeting with health workers, students, individuals impacted by NTDs, and observing treatment and care – as part of an effort to raise awareness of NTD progress and challenges to date in Ethiopia. Goodwill Ambassador Gash Aberra Molla, a well-known artist and musician, attended the celebrations and will continue to advocate for NTD efforts in Ethiopia.
Haiti
For World NTD Day, Haiti's Ministry of Health and Population held a press briefing and aired radio and TV spots to raise awareness of NTDs. Watch coverage on Haiti's Metro News and Tele Ginen.
Indonesia
In Indonesia, the Act to End NTDs | East developed a four-part comic strip series in honor of World NTD Day. The series follows Fil and Sista as they work to plan local events to celebrate World NTD Day and raise awareness of lymphatic filariasis in Indonesia.
Read the comic strips via Twitter
Mozambique
For World NTD Day, Mozambique's Ministry of Health conducted radio and TV interviews, held a virtual presentation with 11 health provinces, central staff, and partners, including more than 140 attendees. In addition, information about NTDs and how to prevent them was shared at health facilities. Watch the TV interview (in Portuguese, starts around 1:46:45).
Nepal
Nepal's Ministry of Health and Population (MOHP) celebrated World NTD Day in an event in the ministry's meeting hall. The event included government representatives, WHO, and partners, with many joining virtually due to COVID-19. The meeting was chaired by Dr. Gunraj Lohani from the MOHP and attended by the State Minister for Health and Population, Honorable Mr. Bhawani Prasad Khapung. During the meeting, the government expressed their commitment to the control and elimination of NTDs.
Nigeria
In honor of World NTD Day, Nigeria's Federal Ministry of Health held a press briefing and a road walk to celebrate Nigeria's progress and sustain efforts to achieve national goals for NTD control and elimination.
In Cross River State, a press briefing was held by the State Ministry of Health to highlight the disease burden, control measures, and achievements to date supported by government and partners.
Tanzania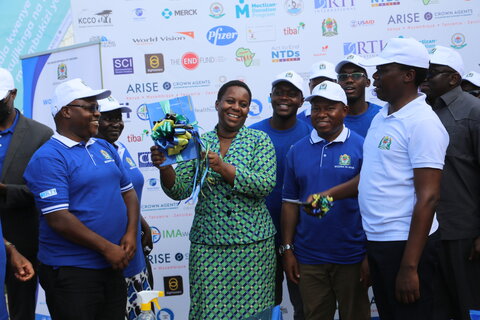 In honor of World Neglected Tropical Diseases Day, Tanzania has launched a new Master Plan and Sustainability Plan for neglected tropical diseases (NTDs), reaching another important milestone in its progress to control and eliminate these diseases. 
Dr. Godwin Mollel represented the Minister of Health, Ummy Mwalimu at the celebration held on Sunday, January 30th at Nyerere Square Grounds in Dodoma, Tanzania. Together, the Master Plan and Sustainability Plan for Neglected Tropical Diseases Control Program 2021-2026 were unveiled at the high-level event with officials from various government ministries, as well as international and national stakeholders.
Uganda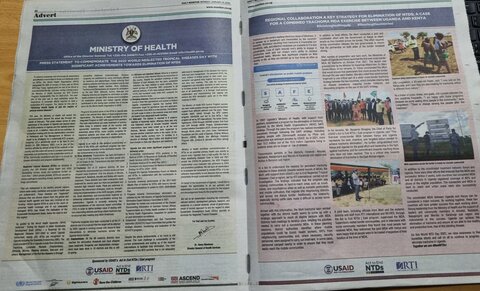 In honor of World NTD day, Uganda's Ministry of Health, with support from Act | East, published a press release and feature in the Daily Monitor. The press release highlighted the NTDs endemic in Uganda and the tremendous progress to control and eliminate NTDs, while also highlighting the need for multi-sectoral coordination and mainstreaming to sustain NTD services into the future. The feature highlighted Uganda's recent success in conducting a cross-border mass drug administration for trachoma in partnership with the Government of Kenya.