Tanzania Launches New Master Plan And Sustainability Plan For Neglected Tropical Diseases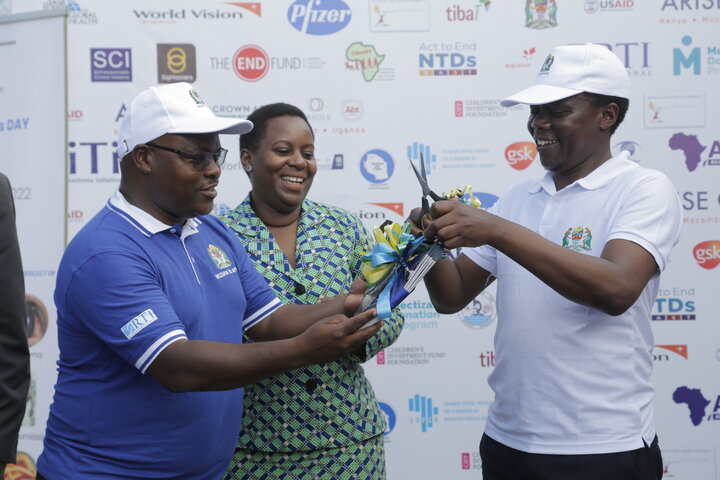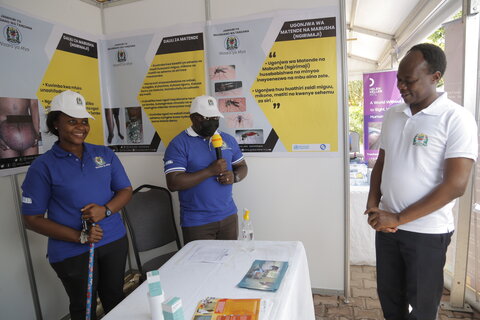 In honor of World Neglected Tropical Diseases Day, Tanzania has launched a new Master Plan and Sustainability Plan for neglected tropical diseases (NTDs), reaching another important milestone in its progress to control and eliminate these diseases.
Deputy Minister of Health Dr. Godwin Mollel presided over the celebration, representing the Minister of Health Hon. Ummy Mwalimu, held on Sunday, January 30th at Nyerere Square Grounds in Dodoma. Together, the Master Plan and Sustainability Plan for Neglected Tropical Diseases Control Program 2021-2026 were unveiled at the high-level event with officials from various government ministries, as well as international and national stakeholders.
"I have come here to represent the Minister for Health, Honorable Ummy Mwalimu… [the government] is very happy with the work of our hands," said Dr. Godwin Mollel. "Let me congratulate you as … we started with 119 districts [endemic for lymphatic filariasis] and now we have only 9 districts, right? Clap for yourselves, it is not an easy job," said Dr. Mollel.
The newly launched plans set ambitious strategies and targets to achieve Tanzania's NTD goals. They will guide the Government of Tanzania in designing and implementing interventions that will ensure the country's progress against NTDs is sustained and these diseases do not return.
Tanzania has long been a leader in the fight against NTDs and joins a small number of countries having developed a comprehensive sustainability plan to address NTDs. It was developed through a highly participatory process involving national and sub-national stakeholders and led by Tanzania's Ministry of Health. USAID's Act to End NTDs | East program provided financial, logistical, and technical support to the process.
"Minister Mwalimu and the Ministry of Health have shown incredible ambition as you mapped communities at risk for NTDs and expanded treatment across the country. The United States Agency for International Development, USAID, applauds your approach of bringing services to the community and reaching the last mile. Those efforts are bearing fruit," said USAID Mission Director, Ms. Kate Somvongsiri.
All of Tanzania's nearly 55 million people are at risk for one or more NTD, with poor and rural communities the most vulnerable. The Government of Tanzania has led tremendous progress towards World Health Organization (WHO) goals for NTDs. To date, Tanzania has reached more than 42 million people with annual NTD treatments. Lymphatic filariasis (LF) and trachoma — two of the most common NTDs — are projected to be eliminated by 2030.
"It is a pleasure to participate in today's commemoration of the 3rd World NTD Day. This day unifies us as partners with the government in the fight against NTDs. Through various interventions, Act | East Tanzania, through support from USAID, along with other donors and partners, have made wonderful achievements," said Mr. Shabbir Lalji, Chief of Party for Act to End NTDs | East in Tanzania.
Since 2010, USAID has supported Tanzania in reaching its NTD control and elimination goals through the NTD Control Program (2006-2012), ENVISION (2011-2019), and now Act to End NTDs | East (2018-2023). With USAID support, Tanzania has delivered more than 272 million treatments for five of the most common NTDs. USAID also supported the execution of more than 720 surveys to assess the impact of those treatment campaigns. In addition, Act | East continues to support the elimination of LF, trachoma, and onchocerciasis and control of schistosomiasis and soil-transmitted helminths in Tanzania through support for mass treatment campaigns, disease impact and surveillance surveys, and sustainability planning.
Alongside Dr. Mollel, other dignitaries included Mr. Lusajo Ndagile, Director of Planning and Policy, Hon. Jabir Shekimweli, District Commissioner for Dodoma Municipal Council, Dr. Saitore Laizer, Director of Training and Human Resources Development, Hon. Neema Lugangira, Member of Parliament and Chairperson of Global Parliamentary Alliance Against Malaria and NTDs, and Dr. George Kabona, Program Manager for Tanzania's NTD Control Program.