World NTD Day 2023
For the fourth year, Act to End NTDs | East celebrated World NTD Day alongside WHO, health ministries and many partners in the global NTD community.
All around the world, celebrations of all kinds were held to mark the day and recognize the many advancements that have been made to eliminate NTDs. Here are a few highlights:
Indonesia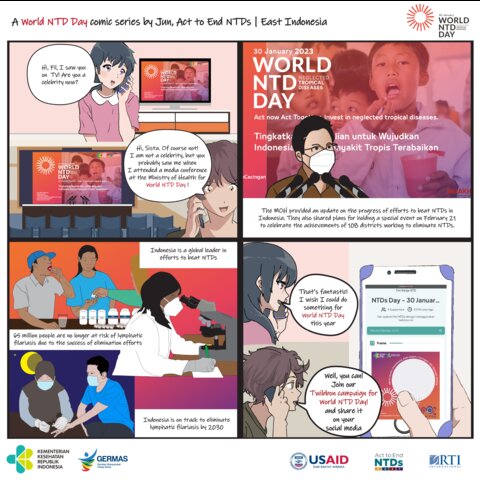 In honor of World NTD Day, Indonesia held a press briefing to raise awareness of NTDs. They will continue to celebrate on February 21st with an event to celebrate Indonesia's progress to eliminate NTDs, including key achievements in 107 districts. In addition, Act to End NTDs | East's Indonesia team developed a six-part comic strip series that shows the return of Fil and Sista for the second year in a row as they celebrate World NTD Day and Indonesia's efforts to eliminate NTDs.
Read the comic strips via Twitter
Nepal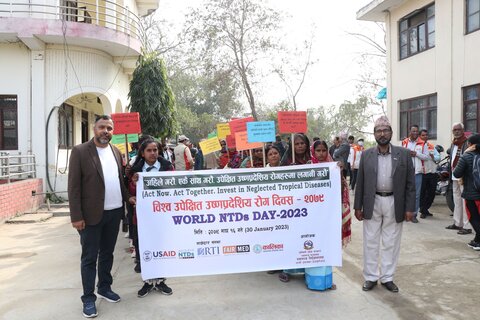 In honor of World NTD Day, Nepal collaborated with the Lumbini Province Health Directorate and held an advocacy event in the Kapilvastu district. More than 300 participants from different districts took part in the celebration including government officials, health workers, students, and other community organizations. Provincial assembly member Hon. Sudhakar Pandey indicated the importance of prevention and treatment of NTDs as one of the priorities for political leadership and expressed his commitment for support in control and elimination of the disease.
Nigeria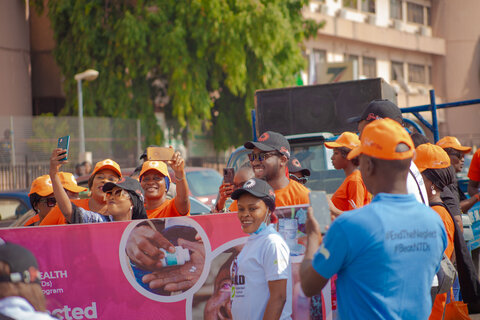 In honor of World NTD Day, Nigeria's Federal Ministry of Health held a week-long celebration filled with activities including school and community outreach, a NTD walk, a townhall meeting, and a press briefing that included a speech given by the Minister of Health as well as the launch of the newly developed Nigeria NTD master plan for 2023-2027.
With support from Act | East, Cross River State also hosted a stakeholder meeting that included a speech given by the Health Commissioner.
Nigeria also announced that four additional states, home to more than 18.9 million people are no longer at risk for onchocerciasis.
Mozambique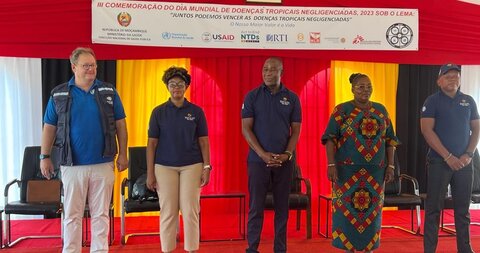 In a joint celebration of World NTD Day and Leprosy Day, Mozambique's Ministry of Health organized an event in the district of Maputo that was attended by the Minister of Health, Armindo Daniel Tiago, as well as other national stakeholders. Radio interviews, speeches, and cultural activities took place as part of the festivities.
Uganda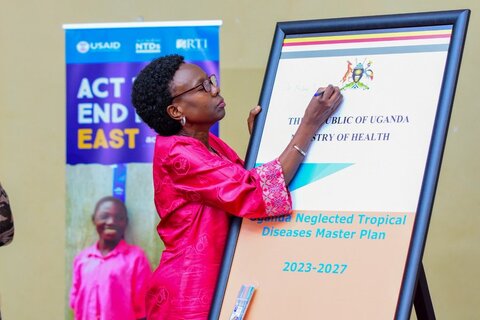 In honor of World NTD Day, Uganda's Ministry of Health hosted a celebratory event in Kampala that focused on highlighting Uganda's progress to eliminate NTDs and highlight the need for continued investment at all levels. In attendance were several high-level government representatives from the Ministry of Health and Parliament as well as other NTD partners. During the event, the Minister of Health, Dr. Jane Ruth Aceng Ocero signed and launched Uganda's NTD master plan for 2023-2027.
Tanzania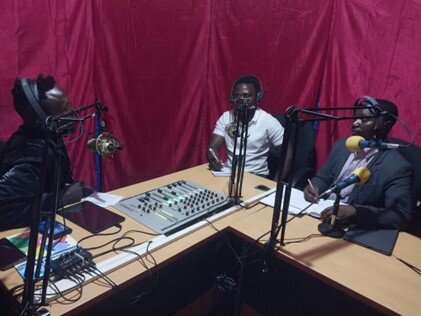 In honor of World NTD Day, Tanzania's Neglected Tropical Diseases Control Program (NTDCP) conducted a week-long celebration, which included radio and TV interviews and educational sessions at primary schools that increased community awareness about NTDs across regions.
Dr. George Kabona, NTDCP Program Manager, spoke at a press conference and discussed planned NTD efforts, and shared major progress toward eliminating NTDs in Tanzania.