Up all night: How lab technicians are supporting Indonesia's effort to eliminate neglected tropical diseases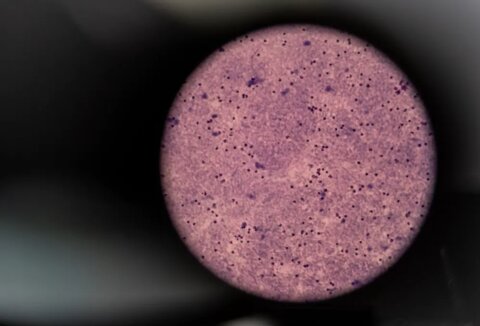 By Alexis Serna and Endri Budiwan
Encountering crocodiles while traveling by boat. Hiking through thick jungle for hours. Driving on a narrow, bumpy road with a sheer cliff on one side.
It's all part of the job of being a lab technician in Indonesia for Arief Rakhman. Arief works for a regional health laboratory in Jakarta, Indonesia, a country that consists of 17,000 islands.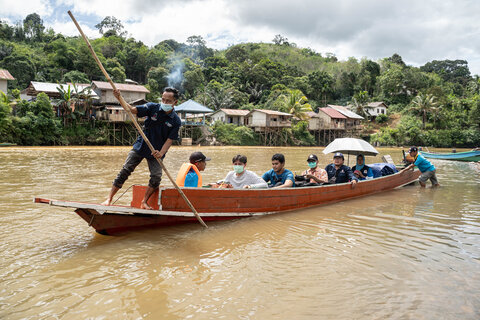 When Indonesia's Ministry of Health does a survey of lymphatic filariasis (LF), he often joins other health workers to supervise the night blood surveys used to detect this neglected tropical disease (NTD). These assignments take him to some of the most remote places in Indonesia, requiring travel by boat, motorcycle, car, and foot in the middle of the night.
"I get to experience new things, which is different from my routine at the lab," Arief said.
USAID has helped Indonesia support lab technicians like Arief, who are critical to the country's effort to eliminate NTDs like LF.
Building a network of labs and technicians

Night blood surveys are a valuable tool in this effort. They help the Ministry of Health accurately determine active cases of LF and thus transmission risk. Spread by mosquitoes, this NTD starts as small worms in the blood, which travel to the lymph system where they mature and multiply, eventually causing disfigurement in their human hosts. The worms are most active at night, so blood samples taken at night are the best way to find active infections.

Accuracy is paramount when preparing night blood survey slides, as enough blood, spread in three straight lines, is needed for a readable sample. Technicians must air dry and stain the slides, often while working in extremely remote areas. Back at the lab, reading the slides can be challenging as the small LF worms are hard to spot.
"The whole process is important to get a good sample," Arief said. "From blood withdrawal to make a slide, transporting samples with care, processing samples properly with giemsa stain, and microscopic examination." Any mistake along the way can interfere with microscopic testing.
Getting people to take participate late at night is no easy task either. Communication beforehand, often through village elders or local health centers, helps to prepare community members for a night blood survey and educates them on the survey's importance to LF elimination.

Once survey teams get a blood sample, it's vital that they move quickly to make the most of it. Blood samples must be air dried within 24 hours and processed immediately after that. As someone who reads the samples back at the lab, Arief's participation helps to ensure the samples collected are accurate and usable.
"I work at night, I process the samples in the morning, then I rest at noon and afternoon," Arief said of his night blood survey schedule.
USAID has helped strengthen the capacity of labs and their technicians, like Arief, to accurately collect, process, and read samples – and perform quality control on them. It's all part of USAID's partnership with Indonesia to establish sustainable systems and capacity to monitor and eliminate disease.
"The Ministry of Health greatly appreciates the strong support we have received from USAID over the years to help strengthen the capacity of our staff and expand program implementation. With strong partners like USAID we are confident we will be able to reach our goal of elimination of LF by 2030", said Dr. Regina Tiolina Sidjabat, Head of the NTD Work Team at Indonesia's Ministry of Health.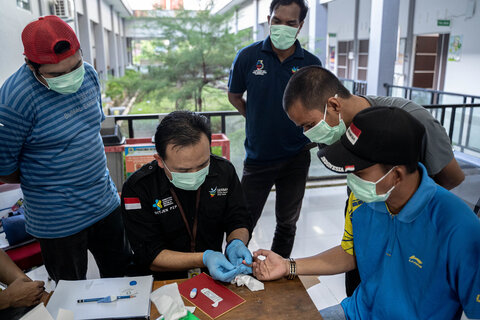 Today, annual trainings at the University of Indonesia provide lab technicians with the most current information on LF testing, including an opportunity to practice preparing and reading microscope slides.
Skilled, knowledgeable, and experienced technicians like Arief make long-term monitoring of diseases like LF possible. That's why USAID has supported capacity building activities for the regional labs involved in NTD elimination efforts. Once LF is eliminated, these labs and technicians will be critical for monitoring for any reemergence.
As countries around the world move closer to elimination of LF, new survey methodologies are being developed that require both rapid tests and confirmation of positive results with night blood surveys, which is bringing the method back into the mainstream.
Indonesia's leadership on night blood surveys can be an example to other countries. Arief sees the potential of his country to lead the way.
"Globally I want Indonesia to be a role model for the activities in the field, for how we do health promotion in remote areas," he said.