Tanzania and Kenya Join Together to Eliminate Trachoma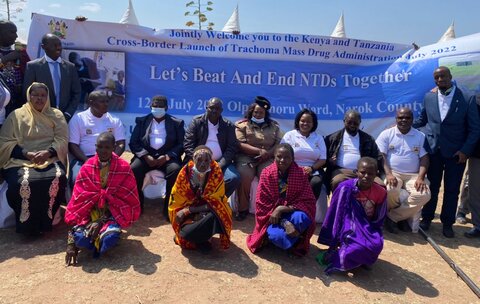 This week, the Governments of Tanzania and Kenya launched a historic campaign to eliminate trachoma along their borders. The effort is the first-ever coordination between the two countries to deliver medicines for trachoma along the Maasai corridor bordering Kenya and Tanzania, ensuring their citizens are reached with medicines, no matter their location.
The launch event was held on July 12th at Olposimoru village in Narok West sub-county and attended by key officials from the Kenyan and Tanzanian governments, as well as partners supporting the elimination of trachoma.
Trachoma is the leading infectious cause of blindness globally. If left untreated, it can cause severe pain and impact the health and productivity of those affected. Over the past decade, Tanzania and Kenya have made tremendous progress toward the elimination of the disease.
The cross-border campaign targets more than 1 million people living in four counties, Narok and Kajiado in Kenya and Longido and Ngorongoro in Tanzania. The populations among these counties consist heavily of pastoralist communities, including the Maasai, which move frequently in search of pasture and are often missed by treatment campaigns. Coordination between Kenya and Tanzania is a critical step to ensure all those at risk for the disease are reached with treatment.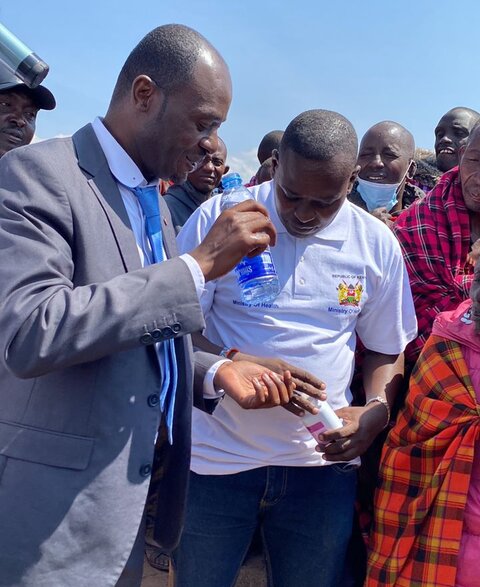 "By partnering with our neighbors, we can ensure that everyone in the local community receives the antibiotic," said Wycliff Omondi, Head of Division of Vector Borne Disease and Neglected Tropical Disease unit under the Kenyan Ministry of Health.
At the launch, key officials demonstrated their commitment and belief in the importance of receiving Zithromax, the medicine used for trachoma, by being the first to receive treatment. Following this, teams in the districts on both sides of the border began delivering medicines and will continue for at least five days to ensure all are reached.
George Kabona, NTD Program Manager for Tanzania's Ministry of Health lauded this accomplishment, which will help to reach pastoralist communities that move across the border throughout the year. "Tanzania has been on a march against Trachoma since 1999, it started with 71 councils, and it has been able to eliminate in 62 councils. Ngorongoro and Longido DC are part of the 9 councils which are still endemic for trachoma. Through this launch we will be able to reduce the prevalence to less than 5%," said Dr. Kabona. To date, more than 17 million Tanzanians are no longer at risk for the disease, due to the impact of trachoma elimination efforts.
Since 2010, USAID has supported Tanzania's Ministry of Health to reach the country's NTD control and elimination goals, with a focus on scaling up mass treatment and helping to strengthen Tanzania's health system to deliver NTD services. RTI International leads USAID's Act to End NTDs | East program in Tanzania. Kenya's Ministry of Health has also seen considerable success in the fight against trachoma and has received support from Sightsavers.
"Trachoma does not respect borders and it does not have citizenship, by partnering across this region, we take a critical step to ensure trachoma is eliminated and ensure the health and livelihoods of both Kenyans and Tanzanians," said Shabbir Lalji, Chief of Party for the Act to End NTDs | East program in Tanzania. "Congratulations to both governments on your leadership and bold action to eliminate trachoma," continued Lalji.
To further help reach nomadic populations, Act | East is supporting microplanning sessions to create targeted strategies in key hard to reach areas and deploying behavior change campaigns on gender and social inclusion to identify and build relationships with key influencers that can help reach pastoralist groups.
"We thank the Governments of Kenya and Tanzania and their delegations for hosting this important launch event, which is an important show of their commitment to eliminate trachoma", said Julius Masanika, Program Manager for USAID's Act to End NTDs | East program in Tanzania. "We also thank USAID for their generous support to the people of Tanzania, in the fight against NTDs."