Preparing the Philippines Health Workforce to Beat NTDs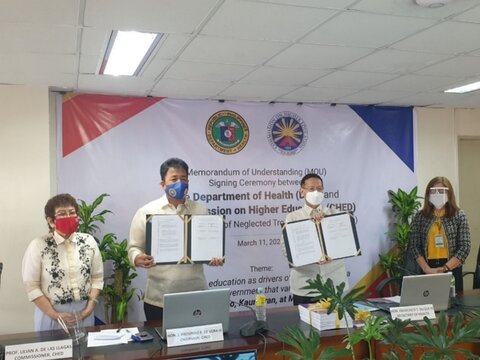 Health and education officials in the Philippines recently formalized the integration of neglected tropical diseases (NTDs) into training curriculum for health professionals. The move marks the next phase in the Philippines effort to mainstream NTDs into the decentralized universal healthcare system, the result of a decades-long commitment to ensure capacity and funding is provided at all levels of government to eliminate NTDs.
The Philippine Department of Health (DOH) and the Commission on Higher Education (CHED) signed a joint Memorandum of Understanding (MOU) on the integration of NTDs into pre-practice curriculum taught in colleges of medicine, nursing, midwifery, medical technology, and physical therapy. By training the next generation of health professionals, the Philippines is ensuring the future health workforce is prepared to detect and respond to NTDs in district, regional, and national health centers – wherever their careers may take them. The agreement formalizes the two departments' roles regarding the NTD curriculum and hands CHED the overall responsibility of implementing it in education institutions.
The joint MOU is the result of collaboration between dedicated officials in the two departments, driven by a shared vision of health and education as drivers of change. The seeds of this partnership were planted many years ago when Dr. Leda Hernandez (DOH) and Dr. Lilian De Las Llagas (CHED) worked together catching and dissecting mosquitoes for research on lymphatic filariasis (LF) throughout the country. Their findings were presented to Health Secretary Duque who then set an ambitious goal to eliminate the NTD from the country. The Philippines has shown tremendous leadership, mobilizing domestic resources to support its NTD program, including mass drug administration campaigns and impact surveys. To date, 44 out of 46 endemic provinces have been declared free from LF and the country is on track to achieve elimination.
USAID has been supporting this effort, partnering with the DOH and CHED to develop the curricula's technical content and to translate it into CHED's curriculum format. Through the Act to End NTDs | East program, USAID supports the DOH to reach its NTD elimination goals and to prepare for a sustainable NTD response into the future.
"Education and ending the neglect of NTDs through Universal Health Care address the common purpose of poverty alleviation and development," said Health Secretary Duque. "We will ensure that the right structure is in place to operate and navigate the last years of the NTD Roadmap towards elimination to finish what we have started."