New USAID Program to Help Countries Sustain Efforts to Eliminate Neglected Tropical Diseases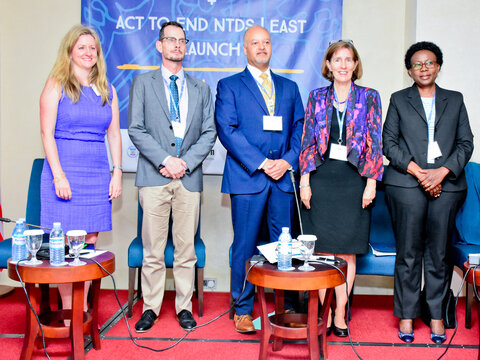 KAMPALA, UGANDA — The United States Agency for International Development (USAID) formally launched Act to End Neglected Tropical Diseases | East, a new global program working to strengthen countries' abilities to control and eliminate neglected tropical diseases (NTDs). RTI International will lead the consortium implementing the program.
Key leaders and stakeholders in the global fight against NTDs gathered today in Kampala, Uganda, to launch the program. Those in attendance included senior USAID officials; Uganda's Minister of Health and other senior leaders; NTD program managers from participating countries, and consortium partners.
"RTI is honored to partner with USAID in the next chapter of the historic global health success story of NTD elimination," said Paul Weisenfeld, Executive Vice President for International Development at RTI. "Act to End NTDs | East will solve last-mile challenges and ultimately help countries document the successful elimination of NTDs. These efforts embody RTI's mission to improve the human condition by turning knowledge into practice."
The Act to End NTDs program is the next generation of programming that's really going to advance our efforts to control and eliminate these diseases. While our partner countries can be proud of considerable progress to date, we don't want to lose momentum. We have big goals that we want to achieve together. Reaching those goals will not be possible without the leadership of our partner country governments to fully commit in the fight against NTDs. - USAID Public Health Advisor Rob Henry.
NTDs affect more than one billion people around the world, causing disability, child malnutrition, blindness, and reduced productivity. Act to End NTDs | East will target five of the most prevalent—lymphatic filariasis, trachoma, onchocerciasis, schistosomiasis, and soil-transmitted helminth infections—through the widespread administration of safe, single-dose medicines. These sustained efforts can lead to control or elimination of the diseases over multiple years. NTDs are also a key part of the United Nations' Sustainable Development Goals, particularly in Goal 3, Target 3.3.
Building on more than 12 years of USAID-supported efforts to control and eliminate NTDs—including the USAID ENVISION program, led by RTI—Act to End NTDs | East will partner with governments and other stakeholders to build sustainable, country-led NTD programming, with a focus on national planning and financing processes. The program also works with ministries of health and education on school health and deworming programs. Together, these efforts will support countries in their journey to self-reliance, supporting efforts to create sustainable NTD programming within robust and resilient health systems. The program's activities will take place in 13 countries: Bangladesh, DRC, Ethiopia, Haiti, Indonesia, Laos, Mozambique, Nepal, Nigeria, Philippines, Tanzania, Uganda, and Vietnam.
"RTI is proud to lead a diverse team of partners to support countries by helping them create effective and sustainable NTD programs that are part of robust and resilient health systems," said Lisa Rotondo, Director, Act to End NTDs | East, at RTI International. Rotondo, who also leads ENVISION, discussed the impact of NTD efforts in a recent blog post. ENVISION will complete its activities in September 2019.
As the lead organization for Act to End NTDs | East, RTI will leverage its expertise across NTDs; water, sanitation, and hygiene services (WASH); health systems strengthening; education; governance, communication and more to implement comprehensive, sustainable solutions. The team includes five experienced NTD elimination partners from ENVISION: The Carter Center, Fred Hollows Foundation, IMA World Health, Light for the World, and Sightsavers, and adds three new partners: Results for Development, Save the Children, and WI-HER.
Through the efforts of the global NTD community, hundreds of millions are no longer at-risk and many countries are on track to reach their control and elimination goals within the next five years. USAID has already helped several countries achieve NTD elimination:
Cambodia, Togo, and Vietnam are among the countries that have eliminated lymphatic filariasis.
Cambodia, Ghana, Laos, and Nepal have eliminated trachoma.
Colombia, Ecuador, Guatemala, and Mexico have been verified free of onchocerciasis.
As more countries prepare for their final push, efforts will focus on the hardest-to-reach and most vulnerable communities, conducting surveys to assess impact, and helping countries complete the World Health Organization's process to confirm the successful elimination of these diseases.
To learn more about Act to End NTDs | East and RTI's work to control and eliminate NTDs, please click here.
Act to End NTDs | East was previously announced as the Control & Elimination Program for Neglected Tropical Diseases—Element Two (CEP-NTD).