Moving Under Sunshine: How Uganda and Kenya are Working to Eliminate a Blinding Disease Along Their Borders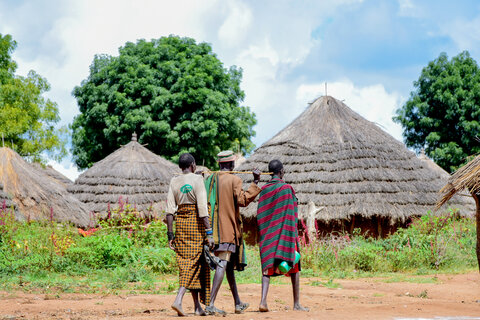 It's a Monday in Amudat, which means it's a market day in the Karamoja region of eastern Uganda. About a kilometer from the border with Kenya, a trading center attracts people from both countries — including many selling and trading animals. The area is home to the Karamojong and other nomadic pastoralist groups who depend on livestock for food and income, moving frequently with their animals for pastures and water.
Job Longolekon, a 30-year-old trader, relaxes to the side of the market. He has just taken medicines to prevent trachoma, a neglected tropical disease (NTD) that affects the eye and causes pain and blindness if left untreated. It's not Job's first time — he has participated in these mass treatment campaigns before — but he noticed this one was different.
"I was just on the Kenya side and I saw they are also treating for trachoma, which is different from before," says Job.
For the first time, the Governments of Uganda and Kenya are coordinating the distribution of trachoma medicines on both sides of the border. It's a historic achievement that culminates after years of coordination between the two governments, supported by partners like USAID's Act to End NTDs | East program, led by RTI International, and the International Trachoma Initiative, who manages the donation of medicines from Pfizer.