From Kathmandu to Jakarta: South to South Exchange for the Elimination of Lymphatic Filariasis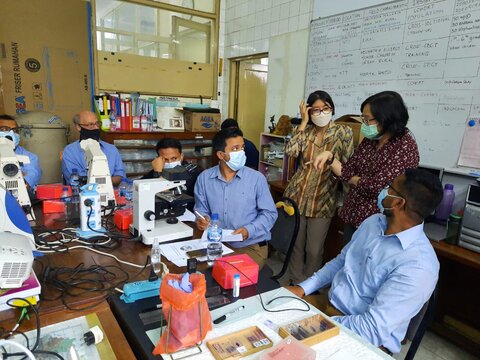 In collaboration with the University of Indonesia, USAID's Act to End NTDs | East Indonesia program recently led a 3-day study tour for the Act | East Nepal team as part of a south-south exchange to support Nepal's implementation of night blood surveys used in the elimination of lymphatic filariasis (LF).
During this 3-day study tour, colleagues from the Parasitology Department of the Medical School at the University of Indonesia and Act | East Indonesia hosted site visits for Act | East Nepal staff. The teams discussed the organizational structure and human resources needed for LF efforts, types of surveys used, and potential implementation challenges. Most notably, the teams discussed how these methodologies can be adapted for use in Nepal.
Nepal has made tremendous progress to eliminate LF, with more than 18 million Nepalis no longer at risk for the disease. However, challenges remain to ensure they can achieve elimination as a public health problem. One such challenge has been the need for night blood surveys which require different methodologies and laboratory testing but are part of a plan to better understand the disease prevalence in Nepal as they move toward elimination.
Indonesia has a long history in the implementation of night blood surveys and regional lab strengthening, offering a great opportunity for south-south exchange. Indonesia is home to multiple types of parasites causing LF, which has led Indonesia's Ministry of Health (MOH) to continue to maintain and strengthen lab capacity and use of night blood surveys as a reliable method for assessing prevalence. Over the years, Indonesia's MOH has developed an efficient coordination and communications system to plan, fund, prepare and implement each of the required surveys; and a comprehensive development and training program to ensure that adequate, experienced health staff and lab technicians are available on a regular basis.
To transfer the learnings from the study tour, Act | East Nepal is working to expand its partnerships with provincial public health laboratories and is collaborating with the Nepal Ministry of Health and Population to organize a training of trainers on conducting night blood surveys. The collaboration between the Act | East Nepal and Indonesia teams is a critical example of the opportunities and lessons to be learned through cross-country sharing as countries navigate evolving survey methodologies on their journey towards the elimination of lymphatic filariasis.
Indonesia Nepal