Act | East Congratulates Bangladesh on the Elimination of Lymphatic Filariasis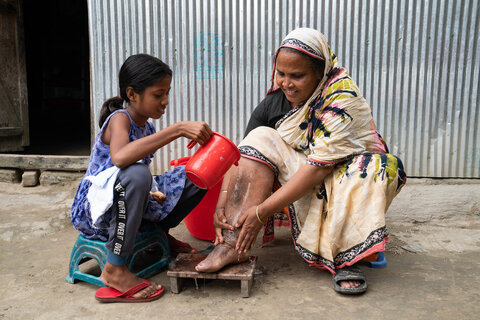 The Act to End NTDs | East program is pleased to join Bangladesh, the World Health Organization (WHO) and the United States Agency for International Development (USAID) in celebrating the elimination of lymphatic filariasis as a significant public health problem in Bangladesh.
Lymphatic filariasis is a neglected tropical disease (NTD) that can cause swollen extremities and lead to severe disfigurement and disability, as well as social and economic discrimination against those affected. As of 2021, more than 884 million people required treatment for this disease across 45 countries in Asia, Africa, the Western Pacific and parts of the Caribbean and South America.
Through USAID's Act to End NTDs | East program, RTI provided targeted technical and project management assistance to the national lymphatic filariasis elimination program in Bangladesh.
"Bangladesh once faced a heavy burden of lymphatic filariasis. Now, thanks to the commitment and dedication of the government and health workers, the next generation no longer has to worry about this disabling disease," said Lisa Rotondo, Director of USAID's Act to End NTDs | East program at RTI. "We are proud to be among the partners that supported the Bangladesh Ministry of Health and Family Welfare to meet this important milestone."
Bangladesh's elimination of lymphatic filariasis was supported by many partners including USAID, RTI, CNTD, U.S. Centers for Disease Control, FHI360, JICA, and WHO, with many others supporting people impacted by LF and LF-related research. In addition, millions of albendazole treatments were donated by GlaxoSmithKline through the WHO donation program for NTD medicines.
With this announcement, Bangladesh becomes the 18th country to have achieved validation of elimination of the disease as a public health problem, marking another important milestone on the global journey to eliminate it everywhere.
For more onthis incredible milestone:
Read the WHO announcement.
Read the USAID announcement.
Read the RTI announcement.
A Bangladesh Free From Lymphatic Filariasis