"A Sign of Love": Doing Things Differently to End a Disfiguring Disease in Haiti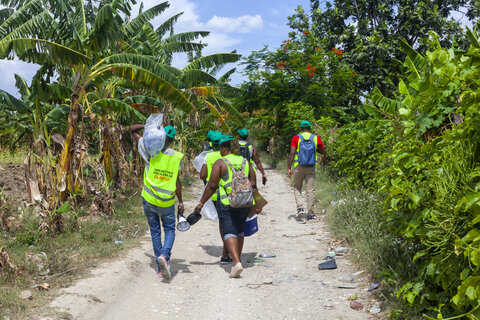 By Amy Veinoglou and Carl Fayette, USAID's Act to End NTDs | East program, led by RTI International
Volunteers in bright yellow vests travel door to door in rural Haiti with medicine in hand. Others sit under tents in village centers, calling out to passersby. Their target: A devastating and disfiguring disease spread by mosquitoes.
To eliminate lymphatic filariasis — or LF as the public health community calls it — people who live in at-risk areas must take medicine annually for at least 5 years. The medicine reduces the amount of LF parasites in a person, which makes it more difficult for mosquitoes to then spread the illness to other people.
Despite facing political unrest and natural disasters that have driven poverty up across this Caribbean country, Haiti has made great strides in eliminating LF since 2001. In fact, sixty-three percent of the population is no longer at-risk of getting this neglected tropical disease (NTD).
The challenge now is to reach the final 18 communes and people in Haiti that are still at-risk for the disease. This requires an annual mass distribution of LF medicines to more than 4.4 million people.