'Take with Food': How Parents in Tanzania are Supporting National Deworming Efforts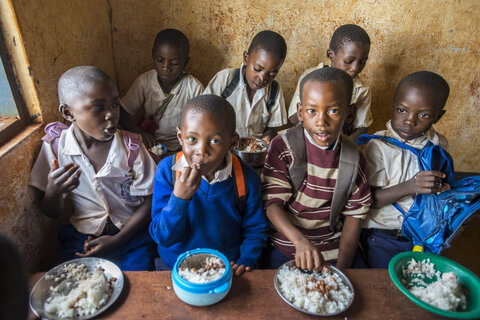 It's a beautiful day in the coastal town of Lindi, Tanzania and children run to school with their plates in their hands. Students are preparing to receive medicine that will clear their bodies of schistosomiasis, a parasitic worm disease that can cause an itchy rash, abdominal pain, and other unpleasant effects.
Like many medicines that bear the instructions 'take with food', deworming treatments are better tolerated with a full stomach. That is part of what makes this day special. Local officials, teachers, and parents — supported by Tanzania's Ministries of Health and Education — work together to provide a meal for children before they receive their medicine. This partnership is a model for countries working to increase the number of children reached with essential deworming treatments.
Improving the Health of Tanzania's Children
Also known as bilharzia, schistosomiasis is a neglected tropical disease (NTD) found in many parts of Africa, Asia, Latin American and the Caribbean. The disease affects those who must use infected freshwater for daily needs like cooking, laundry, and bathing. The impacts of schistosomiasis infection can be particularly devastating in children —without treatment, repeated exposure can hinder a child's nutrition, growth, and overall health and development.
Since 2010, USAID has supported the Government of Tanzania to reach its NTD control and elimination goals. Through the Act to End NTDs | East program, USAID currently provides support to treat at-risk communities, measure, and document progress, and strengthen the health system to deliver NTD services.
In Tanzania, every single district is endemic for schistosomiasis — with around 12 million school-aged children at risk. Like other countries around the globe, Tanzania is working to control these parasitic infections through treatment campaigns with praziquantel, a medicine that clears current infections and helps prevent the development of serious effects. For children both in and out of school, praziquantel is distributed through schools once a year or once every two years, depending on the prevalence in an area. It is very effective at treating the disease but can have short-lived side effects, including headache, dizziness, and stomach pain.
"Children with heavy worm burdens really need the treatment but are also more likely to experience mild side effects," says Dr. Upendo Mwingira, Senior Advisor at RTI International on USAID's Act to End NTDs | East program. "If students have eaten before receiving their medicine, they are far less likely to experience any side effects. And that means they will be more likely to take the medicine again in the future. That makes a meal prior to receiving the medicine an essential part of efforts to reach as many children as possible with deworming treatment."
Engaging Communities for Treatment Success
The USAID Act to End NTDs | East program works alongside the Government of Tanzania to engage local officials, schools, and communities to collaboratively support deworming of students.
The seeds of this engagement were planted back in 2005 when ministries of health and education signed a Memorandum of Understanding (MOU) that established each of their roles in school-based treatment campaigns, including for the provision of food. The MOU clearly outlined these vital roles and has helped to guide their cross-sector collaboration ever since.
In fact, national policy dictates that the food must be prepared and provided on the school premises. This ensures that nobody is given the medicine on an empty stomach. The Tanzania's National NTD Control Program (NTDCP) reminds districts and schools, "No food, no treatment!"
"Regional and district authorities are ultimately responsible for ensuring food is provided before deworming treatments are given," says Dr. George Kabona, NTDCP Program Manager. "But the NTDCP supports their efforts fully. We engage the Regional and District education and medical officers on the importance of both fighting schistosomiasis and of ensuring children are fed before receiving medicines. All of this is achieved by conducting program work review and planning for the next annual treatment campaign, followed by training of regional and district teams (which also include health and education sectors) who cascade the knowledge and skills to the level of the community'', says Dr. George Kabona, NTDCP Program Manager.
"We also work with them on logistical details, so they have time to prepare. Local health and education leaders are then empowered to engage and sensitize school committees, parent associations, and other relevant community bodies on the importance of preparing meals for all children receiving medicines," Dr. Kabona, continues. "Community engagement and mobilization are key to making food available on deworming day." Once informed of the dates for the treatment campaigns, the local Ward Development Committees take forward the plans to ensure every community member gets the necessary information to support preparations of food.
Different communities decide on different approaches for providing food. In some places, parents directly donate and prepare meals, which often includes flour/maize, beans and potatoes. Parents might also contribute money that is pooled for the school to prepare meals — an approach mostly used in urban settings. For schools that already have established feeding programs — through the World Food Programme, for example — these programs ensure meals are available ahead of deworming treatment.
The longstanding successful collaboration between the health and education sectors have made these feeding programs an integral component of Tanzania's deworming program. Thanks in part to these efforts, Tanzania's fight against schistosomiasis has shown considerable success. Across the country, in 135 councils and 19 regions, more than 80% of schoolchildren are consistently being reached with treatment. The support of parents and communities has been critical to this achievement, ensuring students have full bellies, free from worms.